Abhi Kapuria, M.D.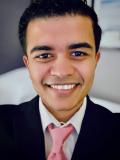 Dr. Kapuria is passionate about providing quality neurological care because he feels a sense of responsibility and gratitude towards his patients who may be suffering their darkest days.
Dr. Kapuria received his bachelor's degree in neuroscience from Washington University in St. Louis and continued with his post-graduate residency training at Duke. He is board-certified in Neurology and Neurophysiology with a subspecialty interest and dedicated fellowship training in epilepsy and other seizure-related disorders.
Dr. Kapuria has won several distinctions in stroke care and education over the past decade.
Outside of work, he spends time with his loves, his wife who is a Pediatric Nephrologist and his 7.5 pound senior rescue dog, Ollie.
Return to Long COVID: Neurological Sequalae Related to COVID-19 Infection