Benzion Blech, M.D.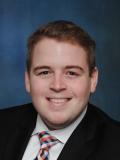 Dr. Blech graduated summa cum laude with his bachelor's degree from Farleigh Dickinson University. He then received his medical degree from Georgetown University School of Medicine, subsequently going on to complete his Neurology residency training and Mayo Clinic in Scottsdale, Arizona. He was selected as chief resident during his final year of residency and was awarded the Manfred Muenter Award for clinical neurology excellence. He then completed a cerebrovascular neurology fellowship at the same institution.
Dr. Blech has a strong interest in cerebrovascular disorders and telestroke and helped design the acute stroke database at Mayo Clinic, including telestroke data abstraction methods from clinical records. He is also very interested in bioinformatics and software development and developed numerous web and mobile applications during his time in medical school, residency, and fellowship.
He was also an Epic Superuser and helped to transition the department of Neurology, as well as the institution, from Cerner to Epic, which included many customizations and workflow changes.
He is the Chief Innovation Officer at Doctorpedia and consults for other companies in application and software design and implementation.
He loves to read, bike, hike, and learn new technologies. He lives with his wife and three children in Phoenix, AZ.
Return to Posterior Circulation Strokes - Live