Amanda Avila, M.D.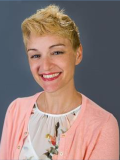 Dr. Avila is a Managing Partner at TeleSpecialists, overseeing the Medical Staff Division. She began her educational journey at Boston College, where she obtained her Bachelor of Science Degree in Biochemistry. She completed her medical degree at the University of Vermont College of Medicine and went on to complete her neurology training at Brown University. Dr. Avila moved to Ft. Myers, FL in 2012 after completing her fellowship at the University of Florida Center for movement disorders and Neuro-restoration. She began her career as the Medical Director for the Hope Parkinson Program in Lee County.
Dr. Avila is certified in neurology by the American Board of Psychiatry and Neurology and she specializes in movement disorders, She enjoys regularly lecturing to patient and medical professional, focusing on improving the quality of like of patients with Parkinson's disease and other movement disorders.
Dr. Avila enjoys golfing, boating and spending time with her children and family.
Return to Understanding Posterior Circulation Strokes