Sam Saha, M.D.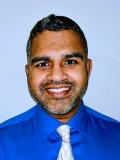 Dr. Sam Saha is a board certified neurologist with expertise in the fields of stroke neurology, general neurology and acute care telemedicine.
He earned his medical degree at Albany Medical College and completed residency training in neurology at the University of Cincinnati Medical Center.
He lives in North Carolina with his family and in his free time, he enjoys driving cars, the outdoors and vacationing with his family.
Financial relationships
There are no financial relationships to disclose.
Return to Imaging-Guided Thrombolysis for Wake-Up Stroke: Pushing the Boundaries of the Time-Based Stroke Treatment Paradigm