Jessica Floyd, M.D.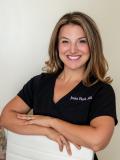 Dr. Floyd completed her Neurology Residency at The Mayo Clinic in Jacksonville, Florida followed by fellowship training in Clinical Neurophysiology with focus in EEG and Epilepsy at the Medical University of South Carolina in Charleston, South Carolina.
She has particular interest in hospital neurology and patient education as well as the blossoming specialty of Lifestyle Medicine. She strives to take advantage of every encounter with patients and medical staff to empower them to do their own research into how daily thoughts, choices, and habits can add up to create greater and longer-lasting brain and neurologic health for self and loved ones.
Dr. Floyd lives in Florence, South Carolina with her husband and three beautiful children. She is an avid yogi, astrologer, and lover of food and all things neurology!
Return to How to Help Your Post-Stroke/TIA Patient: Introducing Lifestyle Medicine - Live