Hsiong Chen, M.D.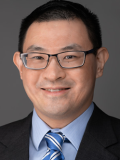 Dr. Hsiong Chen received his undergraduate degree from the Pennsylvania State University. He obtained his medical degree from the University of Maryland School of Medicine, and completed his residency in Neurology and fellowship in Neurophysiology at the University of Chicago.
Dr. Chen has ten years of experience as a neurohospitalist, with special clinical interest in treatment of strokes and epilepsy. As Medical Director of Stroke Services, he has worked to improve patient care and outcomes at a systemic level. He recognizes the importance of education and has provided numerous lectures on a variety of neurologic topics to residents, attending physicians, EMS, and the community.
Dr. Chen is a member of the American Academy of Neurology, and is board-certified by the American Board of Psychiatry and Neurology. He lives in Maryland where he enjoys life with his family.
Return to Neurology Essentials- Disorders of Peripheral Nerves