Vahid Behravan, M.D.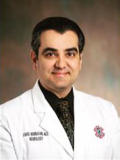 Dr. Vahid Behravan joined TeleSpecialists in 2018 as a TeleNeurologist and has since taken on the role of Director of Community Education. He graduated from medical school in Iran with a neurology residency at Kansas University and a fellowship in neuro-rehabilitation. Dr. Behravan is board certified in neurology.
In his free time, Dr. Behravan enjoys painting, calligraphy, photography, music, and weight training. He lives in Maryland with his family.
Return to 2022 - 2023 Neurology Essentials: Neurologic Emergencies