Michelle Boudreau, D.O.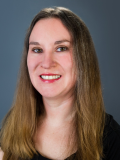 Dr. Michelle Boudreau joined TeleSpecialists in 2017 as a TeleNeurologist and serves as a Regional Medical Director with the Quality Division.
After obtaining her master's degree at Drexel University, she completed medical school at Philadelphia College of Osteopathic Medicine, neurology residency at UCONN, and a fellowship in clinical neurophysiology at SUNY-Buffalo.
She is currently Board-certified in Neurology and Clinical Neurophysiology. She worked at several hospitals and medical centers prior to joining TeleSpecialsits and served as Chief of Neurology at Windham Hospital from 2013-2015.
Dr. Boudreau lives in Connecticut and in her free time, enjoys singing, acting, exercising, and watching movies.
Return to Epilepsy Review and Medication Update