Mark McDonald, M.D.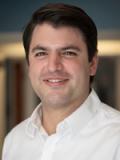 Dr. McDonald joins us from Charlottesville, VA, where he completed his residency in Neurology and fellowship in Neuroimmunology at the University of Virginia.
He has worked as Chief Medical Officer for NeuroView Diagnostics, a digital health start-up that uses artificial intelligence to prevent strokes.
Dr. McDonald received his bachelor's degree from the University of Georgia and medical degree from the University of Texas Medical School at Houston.
He is married and has three children. When he is not working, he enjoys spending time with his family, fishing, and hiking.
Return to Neurology Essentials - Multiple Sclerosis: An Overview of Diagnosis and Management