Stuart Sinoff, M.D.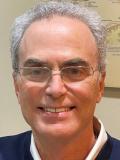 Dr. Sinoff joined TeleSpecialists from Clearwater, Florida, from his Neuro-Ophthalmology practice and his role as a Neuroscience Medical Director for the BayCare Health System. Dizziness and balance disorders are a longstanding clinical area focus as he has been the medical director of the Morton Plant Mease Center for Dizziness and Balance Disorders, and inner ear laboratory, since 1995. In his Neuroscience role for BayCare, he has led the effort to establish a multi-hospital hub-and=spoke stroke network. He also developed the inpatient Stroke-STEMI team at Morton Plant Hospital in Clearwater.
Dr. Sinoff graduated from the Georgetown School of Medicine, with an undergraduate degree in Psychology from the University of Massachusetts. He is the Co-PI of ARIAS, a 5-year longitudinal cohort study of biomarkers in early Alzheimer's disease at hospitals in Florida and Rhode Island.
He is happily married to Roberta, contributing three children to their amazing blended family spanning the U.S. from Chapel Hill, NC to Seattle, WA. His interests include fiction, music, outdoor sports, technology, interpersonal communications, and an occasional glass of Chianti.
Return to The Acutely Dizzy Patient - Live