Theresa Sevilis, D.O.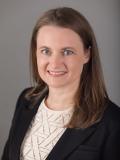 Dr. Theresa Sevilis is board-certified in both Neurology and Vascular Neurology. She attended Midwestern University for medical school and completed her residency at Kaiser Permanente Southern California. Her vascular neurology fellowship was completed at UNC-Chapel Hill.
Dr. Sevilis joined TeleSpecialists as a teleneurologist in 2017 and in 2019, began serving as a Regional Medical Director. In 2020, she became Chairman of the Educational Advisory Council, which was then combined with the Research Committee to form the Section of Academic Advancement, where Dr. Sevilis serves as the Medical Director, overseeing all research and educational endeavors at TeleSpecialists.
Dr. Sevilis currently resides in North Carolina with her husband and children. In her free time, she enjoys yoga, baking, traveling, and exploring nature with her children.
Financial relationships
There are no financial relationships to disclose.
Return to Grand Rounds - Acute Stroke Neuroimaging - Internal TS Lecture - Live